Bismarck Water Treatment Plant
ConXedge real time monitoring and automatic alerts enable a proactive innovative approach to mass concrete management – reducing risk, cutting costs and winning awards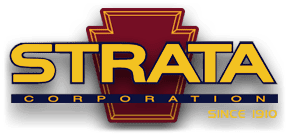 In 2016 the city of Bismarck, North Dakota UA undertook a $US12 million upgrade on its water treatment plant to cope with increasing population and Strata Corporation was engaged as a key contractor.
Projects involving mass concrete need to limit maximum temperature to 150ºF (66oºC) and differential temperatures from centre to exterior to a maximum of 35ºF. (1.7ºC)
For the Bismarck Water Treatment Plant project, the concrete pour was required during cold weather, thus the critical challenge was controlling the effect of ambient temperatures on concrete surface temperature and differentials.
The traditional approach to temperature control for mass concrete is to cool the centre mass. In this project, heat at the surface was adjusted using insulation, which simplified construction and cut costs.
The innovative approach used a system of form insulation, designed so insulation models could be easily changed depending on changing environmental conditions.
In order to succeed with this approach, an accurate "real time" thermal monitoring system was essential.
Project stakeholders turned to HM Technologies in Australia, for help. This project became a "beta test project" for their new ConXedge concrete monitoring system.
Using ConXedge, accurate in-place thermal data was measured and monitored in real time. The system allowed project stakeholders access to the concrete thermal data and was configured to provide auto-notification and warning parameters.
The system was installed in the project's mass concrete
and worked superbly. The web portal was accessible to all stakeholders, providing real time thermal conditions, as well as recording historical data for the project. Status emails and texts were generated, in one instance alerting us to the need to increase insulation due to colder ambient temperatures than predicted.
Using the innovative ConXedge system, supplied by HM Technologies Australia, accurate in place real time thermal management resulted in mass concrete for Bismarck Water Treatment plant being constructed to the highest quality and at the lowest cost.
In recognition of this, the project and ConXedge received an Award for Innovation, from the 2016 North Dakota Ready Mix and Concrete Products Industry.